NOTICE:  MODELS WANTED FOR VINTAGE CDI DEVELOPMENT
We are always open to new product development, and often reach out to the public to borrow or purchase specific vintage snowmobile or motorcycle models for R&D / CDI development.  Almost every CDI we've developed since 1998 has come about this way.  Your help will result in a FREE CDI!
We are located in SE-Michigan, about 40 miles North of Detroit (South of Port Huron).  So if you have a particular Vintage snowmobile or motorcycle model that no longer has a CDI available, please contact us via e-mail link below:  Your help will result in a FREE CDI for your efforts!

SNOWMOBILES WANTED FOR CDI DEVELOPMENT:
(No specific order to listings below…Engine Must Run)
ARCTIC-CAT: 4-plug Kawasaki F/A-T7 engine (1975-El-Tigr'es' etc)
Ski-Doo: TUNDRA II –  1993~1998
SKI-DOO RV 77~78 or Sonic
SKI-DOO 81 9500 BLIZZARD
John-Deere Liquefier 1980
KAWASAKI INVADER 78~82
RUPP / Xenoah engines (may have found one)

SUMMER 2019
Secret Behind the scenes development:  I'm finally back working on a design that I've started/stopped & restarted many times over the past 15 years or so.  Always got to the 50% point, then had some issue that sidelined it until I was able to think through it.  Recently an idea popped into my head, so forced myself to get back working on the design.  This time I made some major progress moving the design forward.  I'm now at the 90% point and hoping in the next few weeks to get it off the bench and on to a test engine.  Can't go into many details, in case I hit the ever-present wall again.  I will say if/when this finally works,  I think it will find it's place with the vintage sleds.    More to come:
SPRING 2019
72 KAWASAKI EXT 650 3-CYL FIREPLUG CDI:
We had recent success developing a FIREPLUG CDI replacement for a 72 Arctic-Cat EXT 650 3-cyl.  This is the Kawasaki triple cylinder engine.  The other good news is, I think some of the things learned will translate to the  early Polaris Starfire and Brut 3-cyl CDI workings in the process.  We had offered that CDI in the past, but lost the build  notes, so had to stop building it.  I think we can offer it again based on our findings during the Kawasaki CDI development. Will have validation know once somebody needs one for the early Polaris or Brute.

 POLARFIRE CDI REPLACEMENT UPDATE:
4/20/19:
Having access to the 77RV was the key to solving the "non-throttle up" issue.  We had success with a prototype concept CDI sent to Canada.  This was actually one of the RV's that would not run with the Fireplug CDI.  The new revisions worked great!  I believe we now have a PolarFIREPLUG CDI replacement that will work to 1978.
3/2019:
We finally have a 1977 RV dropped off here!  Some fine gents in Michigan stepped up to help solve this problem.  We've been dealing with this since 2003 on random 1977 RV's not throttling up with the FIREPLUG CDI.  Unfortunately, the 77 dropped off worked perfect with the POLARFIREPLUG CDI, but that's how it's always been…6 out of 10 work fine.  The good news is we are able to run the sled with various CDI configurations to see what works and what doesn't.  So far, we are on the path to finding a solution.  Again, thanks to some great local Vintage sled owners stepping up!!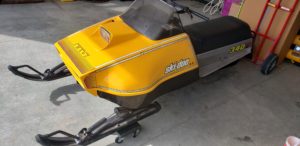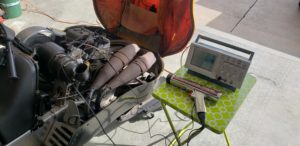 WINTER 2018 / 2019:
12/31/2018:  1972 Polaris ATX 335 twin-cyl snowmobile.
We released a FIREPLUG CDI for the 1972 Polaris ATX 335 twin-cyl snowmobile.  The design was initially tested in 2011, but never put into production due to the rarity of the sled.   In 2018, we had 3 requests for this CDI, so decided to finally add it to the product line.
12/26/18:  RUPP UPDATE: 
We are diligently working on a FIREPLUG CDI for the RUPP sleds (late 70's).  Updates on progress will be posted.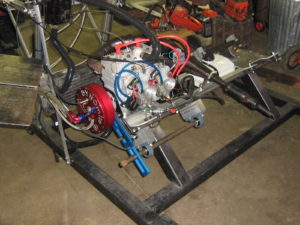 12/19/2018: 80~84 Yamaha models (8N4-20). 
New FIREPLUG CDI replacement for the 80~84 Yamaha models listed below.
1980 SR540D
1981 SR540E
1982 ET340F
1982 ET340TF
1982 SR540F
1982 SS440F
1983 EC340G
1983 ET300G
1983 ET340TG
1983 SS440G
1983 SRV (SR540G)
1984 ENTICER 300 (ET300H)
1984 ENTICER 340 (ET340H)
1984 EXCEL III (EC340H)
1984 PHAZER (PZ480H)
1984 PHAZER SE (ELEC START) (PZ480SEH)
1984 SRV (SR540H)
1984 SS440 (SS440H)
FALL 2018:
The e-mails & phones ringing for snowmobile CDI's!  Tis the season of grass-drags & winter preparation for the sleds!
We completed a FIREPLUG CDI for the Yamaha MX175 A-B (1974/75) MX motorcycles early this fall.  We had no intention of doing it initially, but the pieces fell into place very quickly with excellent results!   This adds to our expanding list of Vintage Motorcycle FIREPLUG CDI's now available.   We will continue to look into other motorcycle CDI's from 70/early 80's as the requests & support come in.
FALL 2017:
We had no opportunities to add any snowmobile CDI models to the FIREPLUG line this off-season.  All the arrangements we had for sled access fell through.  This has become a tedious task when attempting to do development for snowmobiles the past few years.   Listed above are the models we are still getting CDI request for.  Any information leading to us obtaining these models (borrow, rent or purchase) is appreciated…thanks.
~~~~~~~~~~~~~~~~~~~~~~~~~~~~~~~~~~~~~~~~
We just completed a summer FIREPLUG CDI development for a couple of Enduro / MX motorcycle models:
Kawasaki 1971~1975 F5, F7 & F9: (F7-175cc / F5-F9-350cc Bighorn).   FIREPLUG CDI replaces OEM Kokusan / Kawasaki 21119-007 / CU1124 superseded by 21119-013. 
Yamaha DT360A, DT400C, MX400B, IT400C & YZ400C from 1974~1976.  FIREPLUG CDI REPLACES MITSUBISHI F8T00172 / OEM#: 445-85540-22: This CDI is close to production, but need a little more time to validate before marketing it.  Available in November 2017.  Please watch the website for updates.

SPRING 2017:
We are expanding our FIREPLUG CDI line up to include some vintage MX motorcycles.  We only started offering these at the end of 2016, and they have started to become popular already. We are finding the vintage MX bikes have a lot in common with the snowmobiles from the same era.  So it's quite possible we will be adding more Vintage motorcycle CDI to the FIREPLUG line-up in the future.  Thanks to this expansion, we are now selling FIREPLUG CDI's into warm-weather states where we have never sold a FIREPLUG CDI before.  States like Texas, California & Arizona now have FIREPLUG CDI's on their MX bikes.  Here's the latest FIREPLUG CDI models for motorcycles:
YAMAHA MX:  YAMAHA 1973~75 MX 250/360, 1974~76 YZ125, 1974~75 YZ250 Motorcycles.  OEM#: TIA01-02-3XX.  Replaces Yamaha OEM CDI ignition module 364-85540-13-00, as well as previous -11-00 & -12-00 versions.
We also have a 1978 YZ250 available for CDI development.  This should add a couple of additional models.  Watch for it summer 2019

SUZUKI PE ENDURO:  PE 175 / 250 / 400 (1977~84)
If you are interested in the PE175/250/400 CDI, please contact us.
SUZUKI CDI OEM#: 32900-41420 / 40420  / 40520 & possibly others
"""""""""""""""""""
VINTAGE SNOWMOBILES:
YAMAHA:  Our Yamaha Enticer / BRAVO FIREPLUG CDI replacement has also become popular.  Still lot's of nice sleds around with no spark.  As typical with Yamaha's, the stator and components under the flywheel are pretty rugged.  It's the CDI's that fail.  An we are here to help!
COMING SOON!:
JOHN-DEERE / KAWASAKI:  We are arranging for a John-Deere 1980 Liquifier for this summers R&D for a replacement CDI.  Lot's of interest in this CDI, so we are going to make it happen.  This same CDI was used on the JD's & Kawasaki Invaders from 1978~1982, so hoping to cover some popular models with the FIREPLUG CDI for next season.  We will post more info as we make progress with the development.
We are hearing rumors that one of the other CDI rebuilders & stator rewinding facilities in the southern states has got out of vintage snowmobile CDI products to concentrate more on their Marine applications.  I'm not familiar with their vintage snowmobile CDI offerings, however we are looking into the possibility of picking up the models they did offer.